Insignia Group Selects SOAR LMSi for Client Training and Account Servicing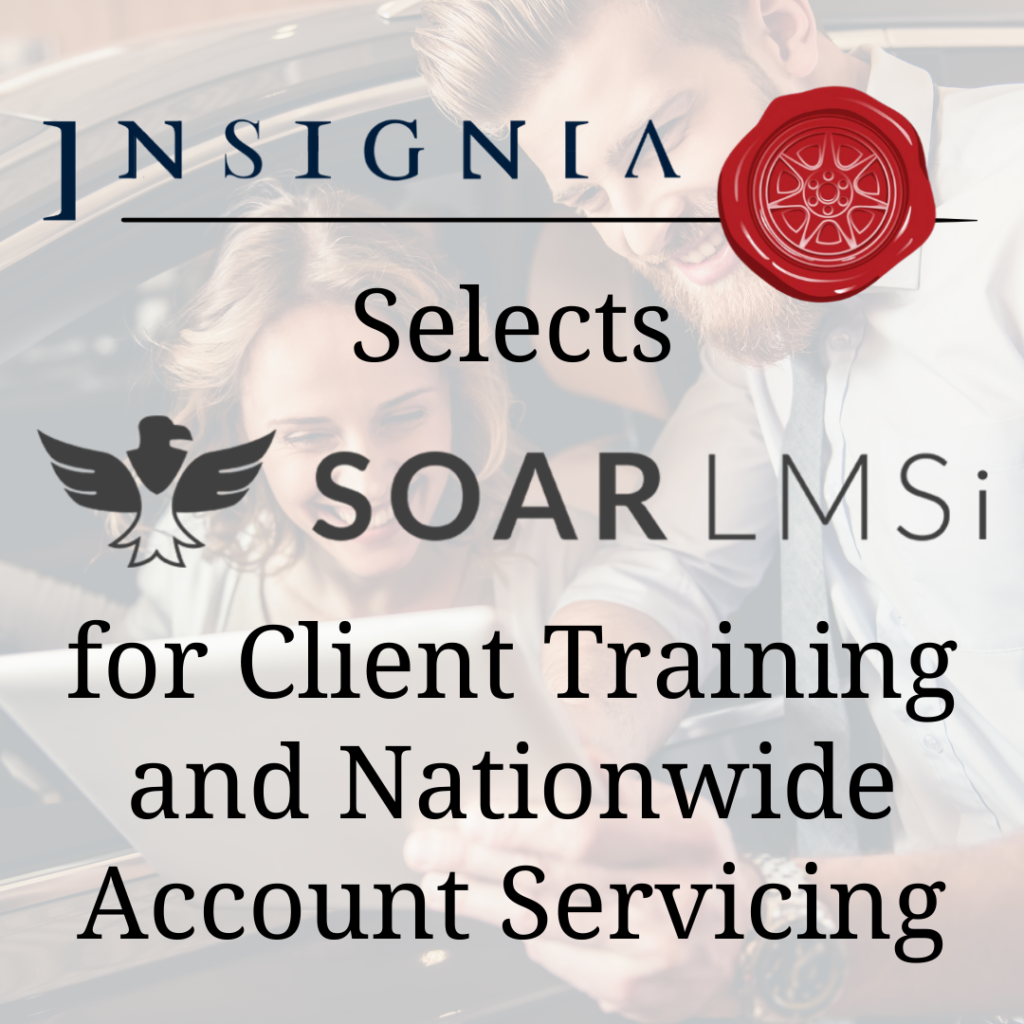 SOAR LMSi is proud to announce a new partnership with Insignia Group. Insignia has selected SOAR's LMSi technology platform to train their employees and dealer clients, and provide a higher level of service to auto dealers across the United States.
Insignia Group is a technology company that provides digital accessory catalogs to automotive dealers.  By providing two important functions, they have helped over 4,000 dealers surpass their accessory sales targets. They first provide a state of the art online digital catalog experience for customers. Then they provide ongoing training to customer-facing dealership staff to help them maximize their sales and CSI scores.  Their innovative best-in-class processes for presenting accessories with every sale also help increase parts sales and service drive business. In short, Insignia's unique technology increases profits per delivery.  Customers that accessorize their vehicles at the dealership have proven to be happier customers offering higher CSI scores to the dealers from which they buy.
"We are extremely happy with our decision to adopt the SOAR LMSi technology tools as our corporate training platform. In fact, we bought three of them!  The platform has been so intuitive and easy to use right out of the box.  When we do have questions, or are looking for some custom development, the SOAR team has been ultra responsive and able to deliver exactly what we need.  We have found that the versatility of the platform allows us to use it effectively in a number of different ways. For example, we are using it to train our field representatives and to service our accounts remotely nationwide. We have even used the customizable platforms in presentations to "wow" and help land new accounts," says Leslie Sibigtroth, Director of Training Development.
Technology and Training Solutions That Make a Big Difference in Accessory Sales
Insignia Group is a leader in vehicle accessory education and technology.  Their comprehensive approach to serving their dealer clients helps generate huge gains in accessory sales.  The sales department, parts department, service department, and the executive management team all receive constant support from Insignia through education and account servicing.  With the SOAR LMSi technology platform, Insignia representatives can train, monitor and measure the results of hundreds of automotive personnel daily from any mobile device.
Their dedication to innovation and excellence has earned them the endorsement of many manufacturers over the years including Subaru, Volkswagen, Jeep, and others.
More about SOAR LMSi
SOAR LMSi is a SaaS (Software as a Service) technology platform that offers customized private labeling for each client.  It delivers daily, on-demand, and unlimited education and skill development sessions worldwide in a secure environment.  The technology includes testing, grading, and private chat channels for personal one-on-one coaching as desired.  The platform is user-friendly and is becoming popular as a superior solution for corporate and vocational training. It is also an ideal account servicing solution for companies with multiple teams to develop, or companies with nationwide footprints.  For more information, visit https://www.soarlms.com/
More about Insignia Group
Insignia Group provides a unique digital catalog technology solution for automotive accessories. This helps automotive salespeople and managers sell more accessories by "personalizing" customer vehicles online prior to delivery.   Their software is backed by a US Patent.   Dealerships can increase profits per delivery and CSI scores by simply incorporating Insignia's technology and recommended sales strategies.   Learn more by visiting https://www.insigniagroup.com/