Dealer Merchant Services Selects SOAR LMSi for Client Training and Account Servicing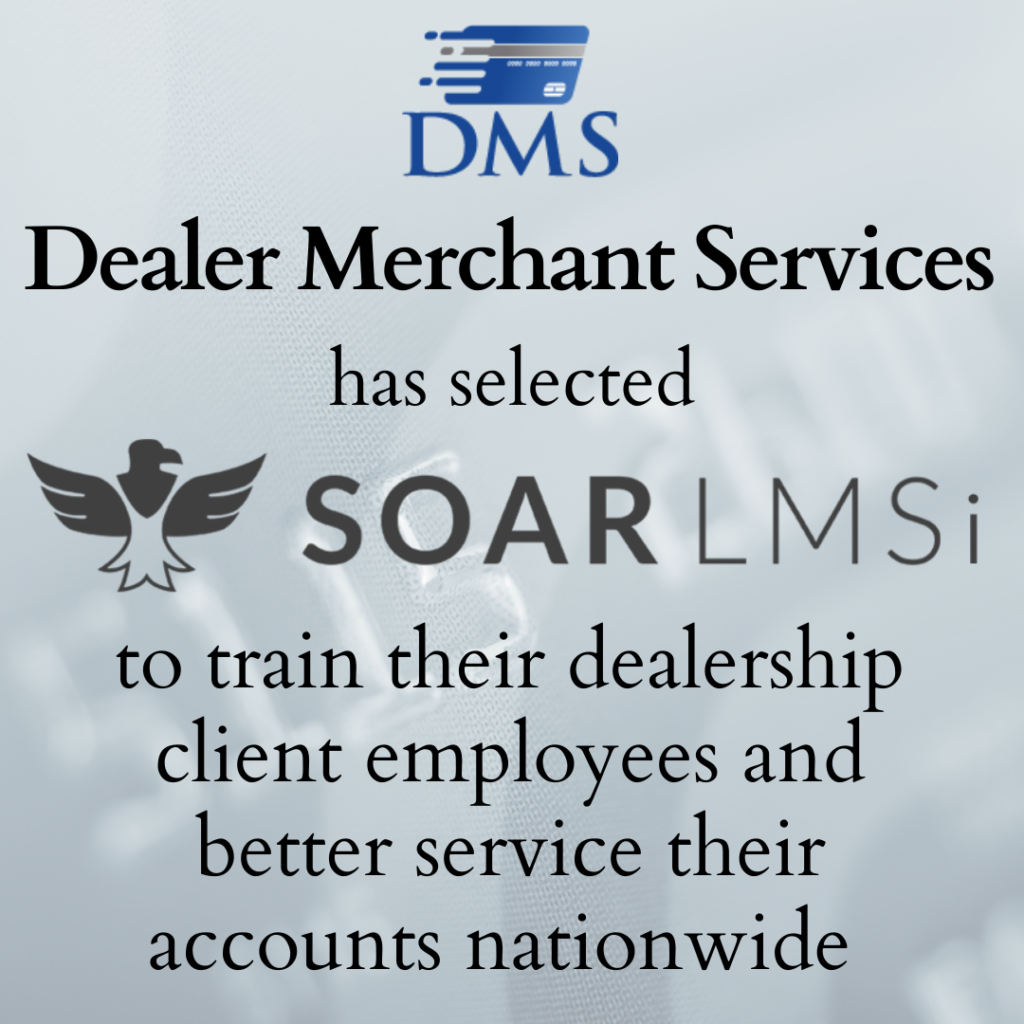 SOAR LMSi is proud to announce a new partnership with Dealer Merchant Services (DMS). DMS selected SOAR's LMSi technology platform to train their dealership client employees and better service their accounts nationwide. 
Dealer Merchant Services is a technology leader specializing in lowering credit card processing costs for service departments in automotive dealerships.  Their unique technology solution helps their dealership clients eliminate 80% or more of these high costs. This is accomplished, in part, by providing world class training to every employee who processes credit cards at a dealership. 
A Learning Management System With the Right Features
"We've chosen SOAR as our new Learning Management System (LMS) due to SOAR's unique features. The platform allows our team to coach and interact with our dealer clients' employees in real time, on their schedules. Our account servicing team can also monitor all training activity remotely through the platform. It allows us to confirm understanding through graded tests and get valuable feedback with surveys. We use the SOAR platform to train all kinds of employees, from cashiers to service advisors to the accounting department. This all translates into great customer service because our clients' employees can complete the training on their schedules."  
"We also use the platform internally to onboard new agents. It allows us to confirm their understanding and mastery of our product and best practices associated with marketing it.  The platform's micro-learning feature helps keep the training concise and effective without being overwhelming," says Amberly Allen Joseph, President of Dealer Merchant Services. 
Training Solutions That Result in Huge Savings
Dealer Merchant Services' clients are saving tens to hundreds of thousands of dollars per year in credit card processing costs. The solutions provided by DMS take advantage of new legislation that allows dealerships to eliminate these costs. Continuous, ongoing Training regarding the laws and best practices is critical to successfully implementing the DMS solution.  
Dealer Merchant Services University can now ensure that all dealership employees who process credit cards are receiving training. It tests to confirm understanding as well as buy-in of suggested best processes remotely and in real time.  This continues even as turnover occurs, without having to physically visit the dealership to interrupt operations for a training class.
"The SOAR LMSi platform has the unique ability to monitor and remember what session each employee 'student' completes daily. Then, it serves up the next session by email the following morning until the employee has completed all sessions. This eliminates the need for any trainee to log in to continue their training, but keeps all content safe and secure.  This push content micro-learning feature has increased engagement rates to nearly 100%. It also eliminates the need for managers to continually remind their teams to train when dealerships enroll their staff.  The system is effortlessly moving hundreds of dealership employees through their skill development processes DAILY and achieving unprecedented results. All of this is verified in the feedback of the dealership leaders and employees, and is documented within their platform," says Henly Magee, National Account Director at SOAR LMSi. 
More about SOAR LMSi
SOAR LMSi is a SaaS technology platform that offers customized private labeling for each client. It delivers daily, on-demand, and unlimited education and skill development sessions worldwide in a secure environment.  The technology includes testing, grading, and private chat channels for personal one-on-one coaching as desired.  The platform is user-friendly and is becoming popular as a superior solution for corporate and vocational training. It is also an ideal account servicing solution for companies with multiple teams to develop, or companies with nationwide footprints.  For more information, visit https://www.soarlms.com/
More about Dealer Merchant Services
Dealer Merchant services provides a unique and compliant solution to help automotive dealers take advantage of recent legislative changes. Their software is backed by a US Patent. Dealerships can eliminate their credit card processing fees in three easy steps. Learn more by visiting https://dealermerchantservices.com/ or contact Dealer Merchant Services directly at info@DealerMerchantServices.com or (866) 485-8999.