The College of Automotive Management Selects SOARLMSi.com as its Remote Training and Student Coaching Technology Platform
SOAR LMSi (https://www.soarlms.com/) is proud to announce that The College of Automotive Management (CAM) has selected the SOAR LMSi technology platform to deliver their content and remotely coach their automotive industry career students. CAM is the world's premier automotive management and lending vocational career school.
"We've chosen SOAR as our new Learning Management System (LMS) due to its unique abilities. For instance, it allows our team to coach and interact with students anywhere in the world in real time.  Our Career Coaches can monitor hundreds of students and their training activity right from their mobile devices.  We can also customize the platform to provide us with real time notifications as students complete an assignment, survey, course or other key milestones. This gives us the ability to immediately respond with words of encouragement as appropriate.  Another great feature is that the platform allows students to record and upload video role plays using their new skills. This gives us the opportunity to review and coach towards 100% skill verification in real time," says Kathy Diane, Director of Coaching and Dealer Relations at the College of Automotive Management.  
"It's hard to narrow it down to our favorite features because there are so many good things about it. We love that there are two communication channels through which we can interact with students. First, we use the private chat feature to communicate one-on-one with individual students. These chat threads are automatically saved in each student's respective file. The second channel is the community board for each training group. This is a great place for students and coaches to post success stories, buy-in of our recommended best practices, and anything else that is appropriate or desirable for public viewing within that group. These have both proven to be highly effective ways to keep engagement active. In our opinion, the combination of these features make for the ultimate coaching and student support platform." 
From Brick-and Mortar Classrooms to State-of-the-Art Digital Training
The College of Automotive Management has been training motivated professionals for automotive retail and lending since 1992.  All training has been converted from the original brick-and-mortar format to a highly accessible online digital format. This makes the content available to students 24 hours a day from anywhere in the world. Their self-paced training programs include eight certification courses requiring 100% test scores to graduate.  Students who complete all courses in a career bundle earn a diploma in addition to the individual course certifications.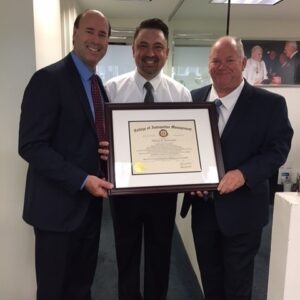 Graduates find CAM's Courses Invaluable
CAM graduates include General Managers, General Sales Managers, F&I Directors, F&I Managers, Sales Managers, Internet Department Managers, Special Finance Managers, Lease Retention Managers, Professional Salespersons, and Account Representatives and Loan Underwriters at Automotive Lenders.
"Thanks to the College's Finance Program I have increased my PVR by far, and I'm so excited to say that my income has increased by at least 30%! This course by far is one of the best if not the best I've taken. Every single chapter has different ways to better yourself and to fully understand objections, and also to advise our customers how to protect their investments. If I had to give a ballpark I would say I've increased my PVR by 400-500 per copy, and at times, more. I'm super excited. A big thank you to everyone's contribution!" says Adrian B., Finance Manager at Galpin Motors – the World's #1 Ford dealer 28 years in a row.
Students of the College of Automotive Management receive one year of personal career coaching in addition to a full year of access to the training content.  The training content is delivered primarily through video and includes online testing, grading, and assignments. The anytime/anywhere accessibility allows students the ability to re-watch and re-learn until they achieve mastery of their skills, mastery of the processes taught, and complete knowledge relating to their job description in Automotive Retail Management or Lending (Loan Underwriting).
SOAR LMSi simplifies training and communication
"The SOAR LMSi platform has the unique ability to monitor and remember what session each student completes daily. Then, it serves up the next session by email the following morning until all course elements have been completed. It's great because this eliminates the need for students to log in each time they want to continue their training. This also keeps the content safe and secure.  This push content, also called 'micro learning,' has increased engagement rates to nearly 100%. Managers love it because it virtually eliminates the need for them to continually remind their teams to train when dealerships enroll their entire staff.  The system is effortlessly moving hundreds of students through their skill development processes and achieving unprecedented results. What's especially beneficial is that it's all documented by the feedback of the dealership leaders and employees within the platform.  The user experience has been elevated resulting in more referrals for our business as well.  Best decision we've made in years," says Eric Andersen, President of the College of Automotive Management.
More about SOAR LMSi
SOAR LMSi is a SaaS technology platform that is private labeled for each client. It allows for daily, on-demand, and unlimited education and skill development sessions to be delivered worldwide in a secure environment.  The technology includes testing, grading, and private chat channels for personal one-on-one coaching as desired.  The platform is easy to use and is becoming popular as a superior corporate training, vocational training, and account servicing solution for companies with multiple teams to develop, or companies with nationwide footprints.  For more information, visit https://www.soarlms.com/
More about the College of Automotive Management
Established in 1992, the College of Automotive Management is the World's Premier Automotive Management and Lending School.
The College provides a unique brand of "Automotive Career Training" (ACT) that focuses on loving customers, ethics, and mastering compliant processes.
Detailed job descriptions and process training categories include:
– Phone lead handling and management,
– Internet form lead handling and management,
– Sales process mastery (without discounting prices) and management,
– Leasing department management and renewal strategies,
– Hybrid F&I strategies,
– F&I administration (cash flow management),
– Lending relationship management,
– Special Finance department management,
– Fast, compliant desking, deal structuring and negotiating,
– Advanced loan underwriting,
– Team leadership, and
– Service advisor sales career education.
The College is the only 100% ONLINE vocational career training school with one year of coaching and career advancement assistance.
With over 5,000 completed online courses in the last 36 months, the College of Automotive Management courses are now the highest rated online automotive career training courses in the industry.
For more information or to contact the College of Automotive Management visit https://www.collegeofautomotive.com/