DealerRE Selects SOARLMSi.com as its Account Servicing, Automotive Education, and Client Coaching Technology Platform
SOAR LMSi is proud to announce that DealerRE has selected SOAR's Learning Management System (LMS) to improve their client services. Through this partnership, DealerRE can now offer their clients extensive Automotive Education, enhanced Client Coaching, and simplified communication. DealerRE is a top leader and authority in automotive reinsurance programs and education for automotive dealers.
A Learning Management System that improves client servicing
"We've chosen SOAR as our account servicing platform to help our clients and their employees continue  sharpening their skills and techniques in their sales and F&I processes.  Access to top notch training on demand along with remote coaching is a huge point of value for our clients. This is especially true given the current COVID-19 circumstances.  We can be in every dealership virtually, as frequently as necessary without interrupting their schedules. We can also remotely monitor training and results to report back to our dealer clients," said Taylor Byrd, President of DealerRE.
A Wealth of Knowledge and Expertise in Automotive
DealerRE has a wealth of knowledge and expertise in a number of areas. These include reinsurance, buy here pay here, special finance, legal compliance, and service contract claims administration.
"Tim, Taylor and Parker Byrd have a remarkable desire to offer extensive value to their clients. We are honored that they have selected our platform to provide continuous, virtual education and coaching to their dealer network. They are experts in the automotive industry with a long history of success in their areas of expertise. They have a lot to offer their clients, some of whom they've served for more than two decades.  We admire companies with strong values including, honesty, integrity and long-term relationship building. DealerRE epitomizes these values and we recognize and appreciate them for that," says Eric Andersen, CEO of SOAR LMSi.
Continually transferring that knowledge and expertise to their nationwide network of dealer clients is an important objective for DealerRE.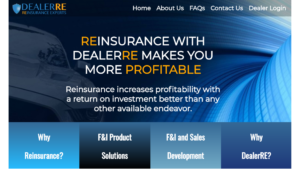 "The more our dealers succeed, the more we succeed.  Raising our account servicing abilities through this new SOAR technology resource was a pretty easy decision for us to make.  Our new private label account servicing and education platform at https://dealerre.soarlms.com/ does the heavy lifting we've always wanted to do for our dealers," says Tim Byrd, CEO and Founder of DealerRE.
More about SOAR LMSi
SOAR LMSi is a SaaS technology platform that is private labeled for each client. It allows for unlimited on-demand education and skill development sessions to be delivered nationwide in a secure environment.  The technology includes testing, grading, and private chat channels for personal one-on-one coaching as desired.  The platform is easy to use and is becoming popular as a superior "account servicing" solution for companies with nationwide footprints.  The solution helps to eliminate costs of travel while increasing account servicing frequency, allowing SOAR LMSi clients to build even stronger relationships with their own client networks.  For more information, visit SOARLMSi.com.
More about DealerRE
Tim Byrd started DealerRE in 1994 in Southeast Virginia.  DealerRE has been helping dealers expand their F&I programs to be more efficient and profitable for more than 25 years.
DealerRE is a family owned and operated company, built on the foundation of Jesus Christ and the word of God.
Today, DealerRE helps dealers across the nation establish and manage their own administrator obligor reinsurance companies to replace third party and manufacturer F&I products. In the Buy Here Pay Here space, DealerRE helps dealers build admin obligor reinsurance programs to protect their vehicle assets from mechanical breakdown and insurance losses funded by their customer base.
A purposeful mission and history of excellence
DealerRE's mission is twofold:
To serve and educate car dealers across the country to utilize reinsurance to better serve their customers
To improve their customers' business and personal financial well-being
The structure of DealerRE's reinsurance entities under IRS code 831b operate to the letter of the law. They don't cut any corners that would expose their clients to compliance or tax risk with the licensing and state approvals of the contracts and policies that their new dealer client reinsurance company provides to their customers. DealeRE partners with the best administrators, CPAs, and legal counsel to ensure that their program and dealerships are operating to the highest legal and ethical standards.
DealerRE is a proud member and sponsor of the NIADA and MANY state associations. Several DealerRE clients have been National Quality Dealer Of The Year, NIADA Board Members, State Quality Dealer Of The Year, State Presidents and Board Members.
DealerRE would be glad to consult with you if you have questions. They can even provide a free audit of your existing programs to ensure compliance with current IRS standards.  For more information, or to contact DealerRE, visit https://dealerre.com/index.html