A Relational LMS for Training with Business, Employees, or Clients

Change the Relationship, Change Everything: A Relational LMS for Training with Business, Employees, or Clients 
Relationship. Relationship, relationship. It is everything.
And we could throw at you a bunch of inspirational quotes that hammer that point home like:
"Personal relationships are always the key to a good business. You can buy networking; you can't buy friendships." – Lindsay Fox
Or
"You don't close a sale, you open a relationship if you want to build a long-term, successful enterprise." -Patricia Fripp
Or
"People do business with people because they choose to not because they have to. We can always find others doing the same thing or selling the same product, it's the personal connection that makes the difference."
But, that really isn't going to help you. You already know that relationships are important.  You don't need inspiration, you need to be better equipped to act on that.
And that's where SOAR LMSi comes in.
SOAR LMSi is all about growing relationships to help your business grow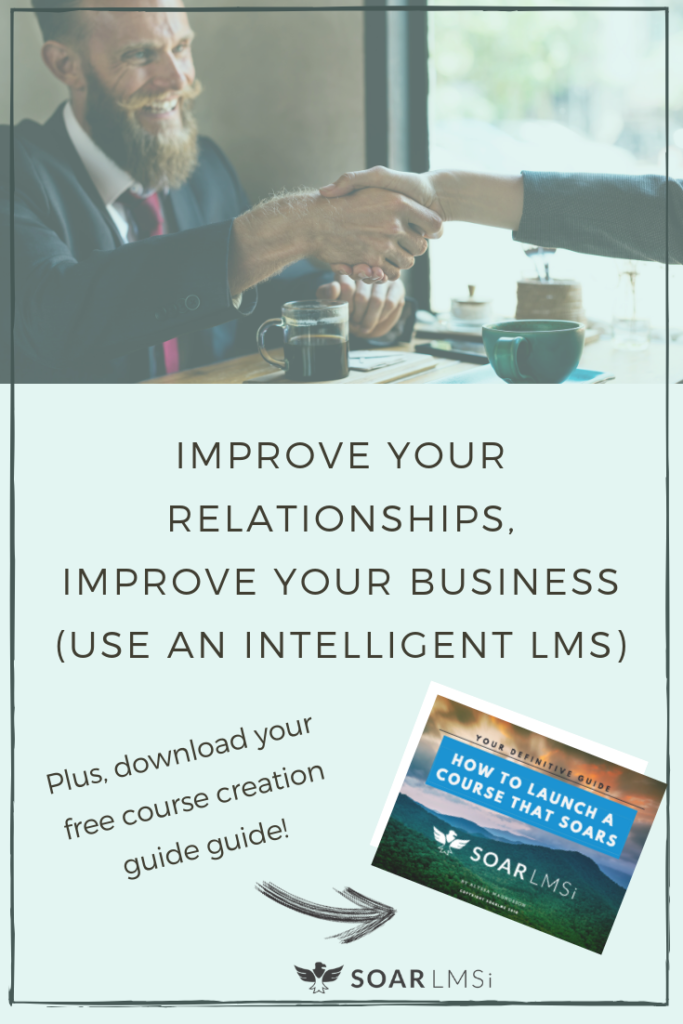 In reality, all of SOAR LMSi is about helping businesses, ministries, and individuals grow their relationships. Whether that is to better serve your customers, donors, volunteers, or students, make more money, raise more money, or create a bigger impact in the lives of those you are working with. Our community forums, micro learning, custom reports, and CRM all equip you to build stronger relationships with your target audience. But all of that wasn't quite enough. We knew that to take the next step in the relationship you needed a more personal way to connect.

Personal, two- way chat within your LMS goes a long way
This is why we include our Private Communication Intelligence in every SOAR account. We offer one-on-one, private, real-time, (or delayed – you choose) two-way chat that allows you to coach, mentor, and respond to the people that matter most to your enterprise.
This personal interaction develops confidence and trust resulting in close, long-term relationships with clients, employees, volunteers, donors, students, and community members.  And, all dialogue is saved in each person's file for future reference whenever you need it.
Whether you are providing customer support, mentoring clients, coaching students, or answering one-off questions of donors, you are able to respond quickly and personally which will help to strengthen your relationships, which will lead to more and happier customers, donors, and volunteers.
And as we all know, it's all about the relationship.
"Business, after all, is nothing more than a bunch of human relationships." – Lee Jacocca
Improve your relationships and you will improve your business.
Get Private Communication Intelligence and all our other intelligent features included on your SOAR Platform. Try it free!