7 Ways an Intelligent LMS Can Strengthen Your Ministry and Increase Donations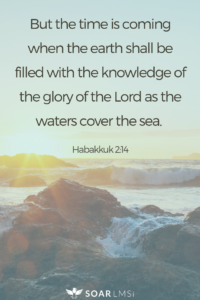 One of our missions is to participate in God's decree that the knowledge of the glory of the Lord will fill the earth in due time.  
We believe, as part of His kingdom come, true knowledge of God will fill the earth. With a tool like SOAR LMSi and THE INTERNET, that is literally an actionable item!
WE BELIEVE THAT TIME IS NOW.
SOARLMSi.com IS COMMITTED TO SUPPORTING THE BODY OF CHRIST WITH THE TOOLS TO MINISTER, TEACH, AND DISCIPLE THE BODY OF CHRIST IN ORDER TO FILL THE EARTH WITH THE KNOWLEDGE OF THE GLORY OF THE LORD     –     WITHOUT BORDERS.
We are here to encourage you in your ministry (you are doing great work!) by sharing our resources!  This was actually the first, and primary motive we had when building the platform.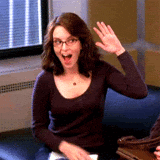 That's why SOAR LMSi was started.
IF YOU OR YOUR MINISTRY HAS BEEN PRAYING FOR TOOLS OR RESOURCES TO GROW, KEEP READING.
You may be clueless to the term LMS (learning management system) or even think LMSs are just for big companies. That changes NOW – here's why.

There are so many ways a ministry could use this system to teach and disciple others, grow their donor base/ enhance the experience of donors OR use it to teach and train those working with you!
Use the SOAR LMSi platform to increase your donors and donations

Create a "course of updates" for partners and donors to keep them engaged in the work you're doing

Create a course for training volunteers who want to join you!

Put your teachings in a system that tracks those who watch and even issue certificates

As a coach or discipler, host your content AND keep track of those you're "walking with"

Private chat tools allow for personal one on one conversations to disciple
Group discussion boards allow for group conversation and sharing in and about your ministry efforts

Allow donations to be collected from those accessing your content through the payment gateway included with every account

Invite all new supporters into an introductory class that can educate and excite them to be brand advocates helping to spread the good news of your work to others
So all that and more can be done with your new SOAR LMSi platform.  The "i" is for intelligence.  We are bringing a whole new level of intelligence to your kingdom work. Check out these 7 intelligence benefits you won't find on a standard LMS platform (and certainly not free – as we have included every feature with every platform – never an upgrade or up-charge required – everyone always gets our best and most).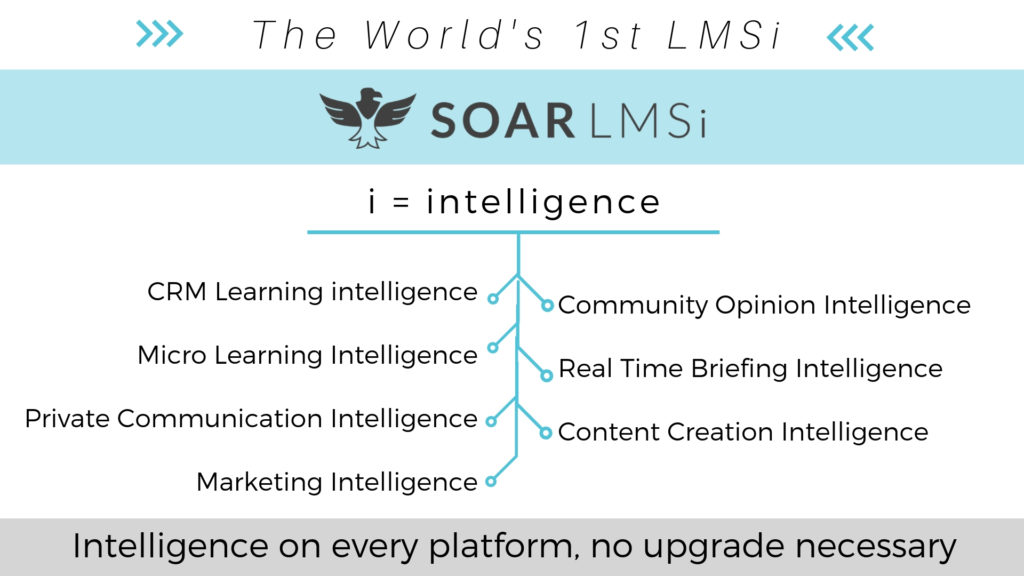 1. i = CRM Learning Intelligence
A built-in, easy to use CRM (customer relationship management) organizes your ministry contacts by donors, volunteers, disciples, participants etc. Then it intelligently organizes and serves up to you all daily contact commitments (prioritized daily to-do list) so you can keep your promises to those involved, and develop stronger relationships based on integrity.
WHAT IT MEANS FOR YOUR MINISTRY:
Every day you can see which donors you need to follow up with and keep them informed of the results your ministry efforts are producing, as evidenced by the comments from those being discipled by you gathered by the platform so that no one gets left out as you continue to build trust and enthusiasm with your donor base. 
2. i = Micro Learning Intelligence
Your training, teachings, gratitude, encouragement, or praise can be delivered to any mobile device on-demand daily, weekly, monthly (you decide frequency) to your community groups without requiring anyone to "log in" or download documents or apps.
WHAT IT MEANS FOR YOUR MINISTRY:
You get tons of time back because your content gets sent out automatically! Responses and testimonies came back in automatically.  Forwarding select information keeps donors more engaged, volunteers more effective, and students more equipped for Kingdom life and work. You can build and strengthen relationships daily. 
3. i = Real Time Briefing Intelligence
Present your message once, then totally control access and delivery forever, whenever, to whomever. Take back your valuable time and eliminate redundant tasks. Measure learning retention, new skill development, and consensus with interactive assignments, graded tests (including written essay and video response assessments), and fully customizable surveys (to gather opinions and motives, not just star ratings). Custom reports provide intelligent insight into all daily learning activity, engagement, and opinion.
WHAT IT MEANS FOR YOUR MINISTRY:
No more need for various spreadsheets and systems trying to work together. Your dashboard shows you exactly where your "students" (partners, volunteers, donors) stand in their learning process. 
4. i = Private Communication Intelligence
One-on-one, private, real-time, (or delayed – you choose) two-way chat to coach, mentor, or disciple. Personal interaction develops confidence and trust resulting in close, long-term relationships with donors, volunteers, disciple, and community members. All dialogue is saved in each donor, volunteer, disciple, and/or client file for future reference on demand.
WHAT IT MEANS FOR YOUR MINISTRY:
Make personal interaction easy and less time-consuming! Learn more about how your donors and volunteers feel and what they need. Build a stronger culture by knowing what your donors and volunteers actually think and want by giving them a safe, confidential way to share their thoughts with you. Create stronger relationships with your donors and volunteers, improve your customer service. These things lead to more trust, leading to increased donations over time and referrals to others who may be interested in supporting your ministry.
5. i = Community Opinion Intelligence
Group discussion boards around course topics drive culture and consensus. Encourage peer-to-peer learning and support by leveraging opinions of early adopters of your ideas and content. Build communities of like-minded people around your passion or ministry focus (the homeless, the fatherless, the poor, children, widows, the unborn, the unsaved, the oppressed, etc).
WHAT IT MEANS FOR YOUR MINISTRY:
Imagine what it could mean to have your people (whoever they are) interacting and sharing their enthusiasm about your ministry on a community bulletin board.  Build fellowship around the world.  With a tool like SOAR, there are no borders- grow exponentially and never lose these discussions!

6. i = Marketing Intelligence
Positive comments, surveys, results, and testimonials all captured and organized so they can be redeployed in marketing materials (including blogs, landing pages, email templates, and social media posts). Organically perpetuate growth with testimonials- increase your reach and influence, and do it all using FREE marketing mediums.
WHAT IT MEANS FOR YOUR MINISTRY:
We want to see you SOAR! There is no extra work to gather an organization's most valuable marketing asset (positive feedback). Easily incorporate surveys into your "course" to gauge the effectiveness of your work. This will not only help refine any program work, but it also will provide powerful testimonies that can be shared with stakeholders. Get partners and donors excited about the fruit of the work! 
7. i = Content Creation Intelligence
Continually improve the quality of your communications and content with FREE content creation PDFs, DIY blogs, and an online knowledge base. Or, engage with your own personal content creation consultant, take a 30 or 90-day step-by-step course, or collaborate with other content creation experts on your schedule. Get started now!
WHAT IT MEANS FOR YOUR MINISTRY:
You will be equipped to share your message however you decide to use SOAR!  Even if you've never created an online course before, you will see how you can simply, and quickly create quality content that will increase the effectiveness of your work. If you have a lesson or skill that has been put on your heart, we will walk you through how to turn that into a class that can change lives.
AND ONE MORE THING
You know what we ALL need more of (and the best tool out there)? PRAYER!
The SOAR LMSi team would love to pray for you and your ministry. Share your request!