The Secret to Increasing Course Engagement and Completion Rates

Unlocking the Secret to Increasing Course Engagement and Completion Rates: Micro Learning
Industry-wide it appears that course engagement and completion rates hover in the 15% range.
The number one problem is actually having students log in and engage frequently and consistently! 
A couple things happen when people don't engage frequently in your course content:
They are less likely to actually learn what you are trying to teach them

They don't achieve the goal they initially set out to achieve by finishing your course
Sometimes it's just too much to sit down, log in, find where you left off, and get through a lesson or message. People are more and more expecting instant gratification within their mobile experience.
SOAR LMSi has solved this problem.
Enter Micro Learning Intelligence

Through intelligent technology, we have eliminated nearly all the barriers that prevent frequent and consistent engagement.  In fact, Micro Learning technology is boosting engagement and completion rates of 85%-95% – here's how: 
Our Micro Learning technology automatically delivers the next lesson or marketing message, or company announcement to any device including, and especially mobile devices – all displays are mobile friendly (mobile first!)
The administrator or author of the messages chooses the frequency that their messages delivered (daily, weekly, monthly for example)
The recipient of the message does not have to "re-login" to their platform or "download" any apps to access the content, yet the content remains secure on the host platform
System analytics track open rate, time spent training/reading the message or lesson, number of times viewed, and time and date stamp of the review
By keeping the daily messages 1-5 minutes long (in text, graphic, video, or audio form) the information is easily digestible
The frequency of the delivery is up to the administrator of the content or teacher (daily, weekly, monthly, etc.)
Our intelligent Survey technology can be added to the message to get instant feedback regarding agreement, adoption, and adherence to the message, in addition to being able to confirm understanding of any message through multiple forms of testing which the system will also grade automatically (true/false, multiple choice, fill in the blank, keyword match, exact word match, and essay)
Daily or frequent engagement EXPONENTIALLY improves course completion rates, idea adoption rates (create a new culture in the office or create cohesive department) and when the frequent messages are filled with praise, acknowledgment, encouragement, and recognition course ratings and overall moral goes through the roof!
SOAR LMSi designed this feature we call Micro Learning Intelligence, so you can easily send your ideas, training, marketing messages, announcements, gratitude, encouragement, and praise to any mobile device on demand daily, weekly, monthly (you decide the frequency) to your students.
It's pretty cool technology if we do say so ourselves.
Combine this tech with having each lesson be under 5 minutes illustrating just one/very few points and your course engagement rates will skyrocket. Want all our instructor tips? Download our free guide, How to Launch a Course that Soars.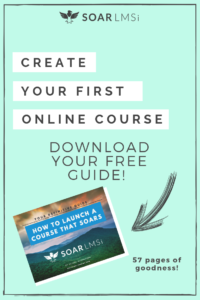 It's just one simple step for students to engage
Here's how it plays out:
1 – Your student will get an email that tells them their next lesson, or message (think about the marketing implications, periodic announcements or department group training possibilities) and prompts them to start it.
2 – Once they click that button they will be automatically signed in and taken to their course (or marketing message sequence, announcements list) and prompted to start the next lesson in the sequence.
It may seem like a small (even micro 😉 ) thing, but bringing your class to your students, making it super simple for them to sign into their course and get started where they left off, and deliver that ability to a cell phone virtually anywhere, will significantly increase your course completion rate, leaving you with happier students, better reviews, more referrals, and an increased likelihood that they will take another one of your courses.
Micro Learning makes you a better instructor
Micro Learning (and all other "i" features of the SOAR LMSi platform) is enabled on every plan, no upgrade necessary. We want your students to succeed! Try it free for 30 days (no credit card required).