HELP OTHERS CREATE AND
MARKET THEIR COURSES
If you believe in what SOAR LMSi stands for, and the mission we are trying to achieve,
then we would love for you to consider establishing a career working with SOAR clients.
Become a Consultant
DOES THIS SOUND LIKE YOU?
You have marketing, content creation or copy writing skills
You want to work remotely
You want flexibility in your job
You want residual, continually increasing income
You want to gain financial freedom to do your passion
Essentially, we want to help you market you and your skills to SOAR clients. You'll be able to help people build courses, market courses, build coaching and discipleship programs and get the most out of the SOAR LMSi platform as a Certified SOAR Consultant.
Become a Consultant
BECOME A SOAR LMSi CONTENT CREATION AND/OR MARKETING CONSULTANT
Even though SOAR provides a FREE guide explaining how to create a course, clients may need help building Power Points, editing videos, determining their course strategy, or simply may not have the time to do it themselves and are willing to pay for assistance.
HELP OTHERS MARKET THEIR COURSES TO THE MASSES
Even though SOAR provides a FREE definitive, step-by-step guide of how to market a course using free resources like email list building, social media, blogging, and search engine optimization (SEO), SOAR clients may need help setting up or executing these strategies and are willing to pay others that have these skills.
TO HELP YOU SUCCEED, YOU RECEIVE:
A private branded platform and CRM with all the bells and whistles 30 days for FREE.
$1000 worth of advanced course creation and course marketing training for $199.
Pre-made courses from SOAR to sell to your own clients on your own platform – putting you in business in less than 48 hours.
Featured listing on our Support page as a "Certified SOAR Consultant" to help you gain new clients.
SOAR CONSULTANTS GROW THEIR INCOME IN TWO WAYS!
Immediate Cash Flow from consulting fees earned by providing your consulting services (graphic arts, video editing, copyrighting, course building strategy) to SOAR clients.
Forever Residual Income – Affiliate commissions earned from any clients referred to SOAR by consultant as long as the referral remains a SOAR client.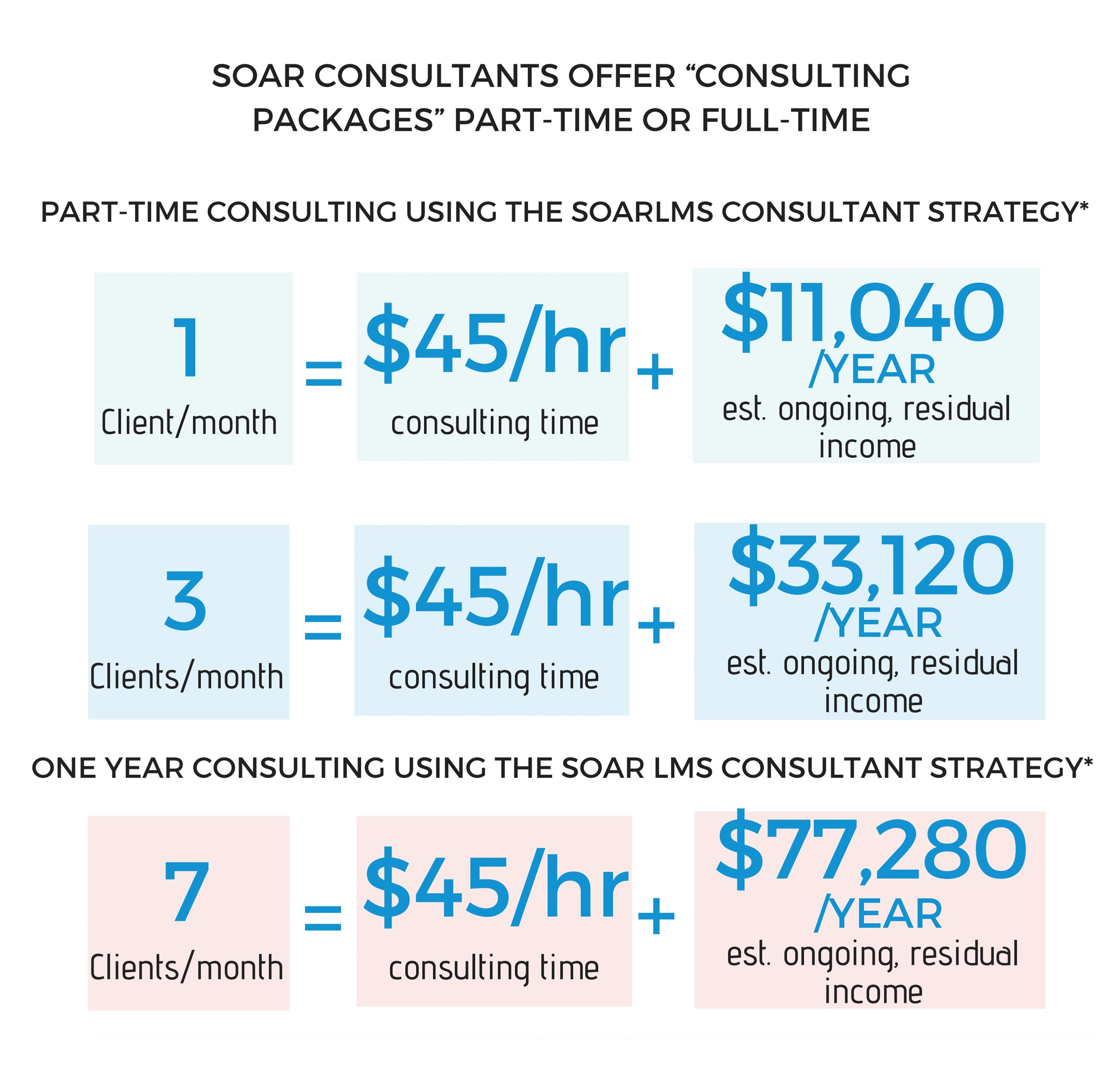 *Download the Certified SOAR Consultant PDF for complete details.

Become a Consultant